From Chapter 2: Karen,
Cusp
's main character, grew up indoctrinated into pop music by her mother Bonnie, an expert in Top 40. Bonnie even had an arrangement at a local record store to set aside one of every new single released, so she could buy her favorites.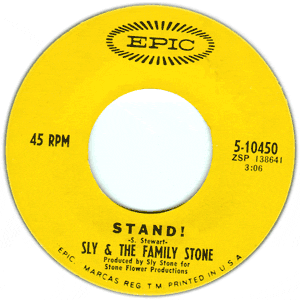 When they were younger, Karen and her sister Ruth stacked up these records inside the family's stereo console and programmed their own dance parties. When she thinks about Sly and the Family Stone's
"Stand!"
Karen is remembering those days.
The song hit #22 in 1969 and followed the band's number 1 hit "Everyday People."
Personally, for years I thought this song was about a guy named Stan.